About The Mutts Nutts rescue
Dedicated to helping the elderly and terminally ill with their pets when they can no longer manage alone.
Contact Us
The Mutts Nutts Rescue started life in 2010 as three friends wanting to make a difference in Rescue – We initially contributed by helping other Rescues with funding, building facilities, fostering animals, dog walking and running events – it was a steep learning curve! By 2012 we had worked up a head of steam and in 2013 we became a registered Charity focussed on helping those animals who fared least well in mainstream Rescue, mainly those who found themselves without a home later in their lives. It became increasingly clear that we were not just rescuing dogs but their owners too who needed help and support. In 2017 we registered as a people/pet rescue charity dedicated to helping elderly and poorly members of our local community with their dogs and cats.
Since 2017 we have developed HOMES, our charity's five-part comprehensive service, designed to help this vulnerable sector of our community keep their furry friends by their side for as long as possible.
We are proud of our achievements to date. We are keen to make the distinction that we help people as much as we help animals – a rare combination that distinguishes us in the general world of animal rescue.. We take our work very seriously, but not ourselves, hence our name, The Mutts Nutts Rescue. It reminds us to be playful when we can be, in spite of the challenges. We're a compassionate, friendly bunch, always ready to welcome like-minded, pet loving volunteers.
The Core Team:
the Nutts and Bolts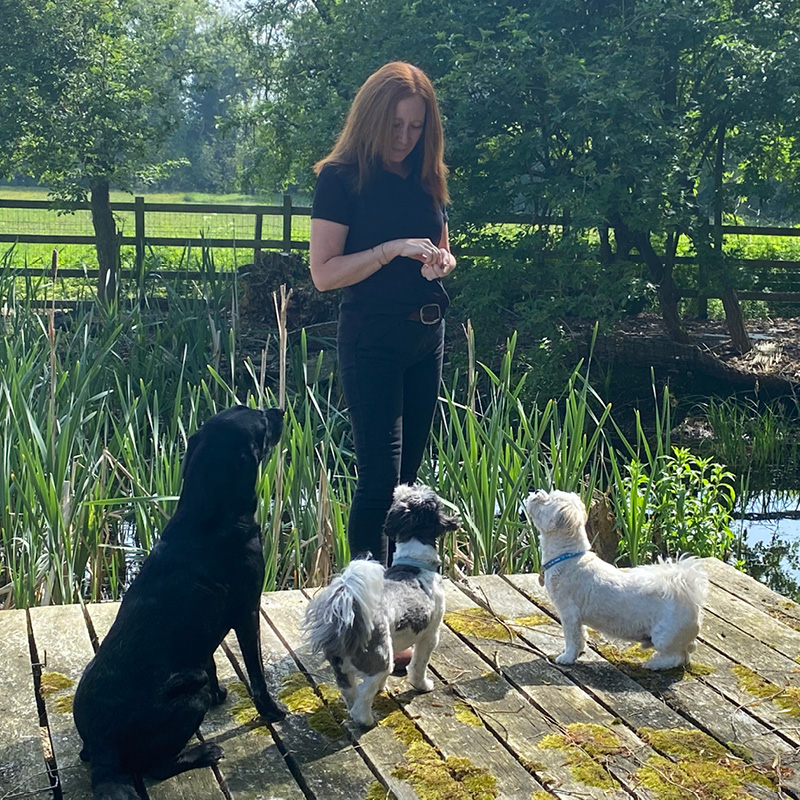 Bec Wilson
CEO/Operations Manager
Glancing through our local village magazine in May 2014, I saw a letter … "Dear Editor, Calling all local dog lovers! … No experience necessary – but a love of dogs essential". This was from Terry Cook on behalf of The Mutts Nutts, she was looking for a person to take on a regular role at rescue kennels close to my home.
Read More
I was an HR Manager for Churchill Insurance and "Oh Yes" I did have a nodding dog. I had taken voluntary redundancy in 2004 after the birth of my first child and after a 10-year career break (my children were then 10 and 8 years old) it was time to start thinking about what to do next. I remember clearly the phone call back from Terry, where I was, and what we talked about. This is because that phone call changed my life. I love being involved with The Mutts Nutts, this is truly the first role out of a variety of career paths to date that leaves me fulfilled and satisfied with my working day. My husband does not refer to my work as a job, how can it be when I enjoy it so much?!
I have been involved in our remote projects supporting other rescues up to the launch of our own foster facility in 2017. Now 8 years on, just post pandemic and with much older teens It is an absolute privilege to be our CEO/Operations Manager (sometimes known as Head Nutt!).  I am extremely proud of our HOMES service and the assistance we provide to the elderly and ill in our community. Not a day goes by without the realisation of how important pet companionship is. We are here to provide that support structure to enable stress free ownership can continue, even when life becomes less straightforward.
My skills developed over previous roles stand me in good stead for co-ordinating team members and volunteers and all things people.  What has become paramount over the last eight years is our unique charity provides as much support for humans as well as animals and as for "No experience necessary – but a love of dogs essential", I think my devoted ownership of loopy Lhasa Apso dogs, yes I know, someone has to love the stubborn little characters (2 at home, 2 previously and an elderly Labrador) stands me in good stead for a bit of experience, but certainly a love of dogs (& cats too!).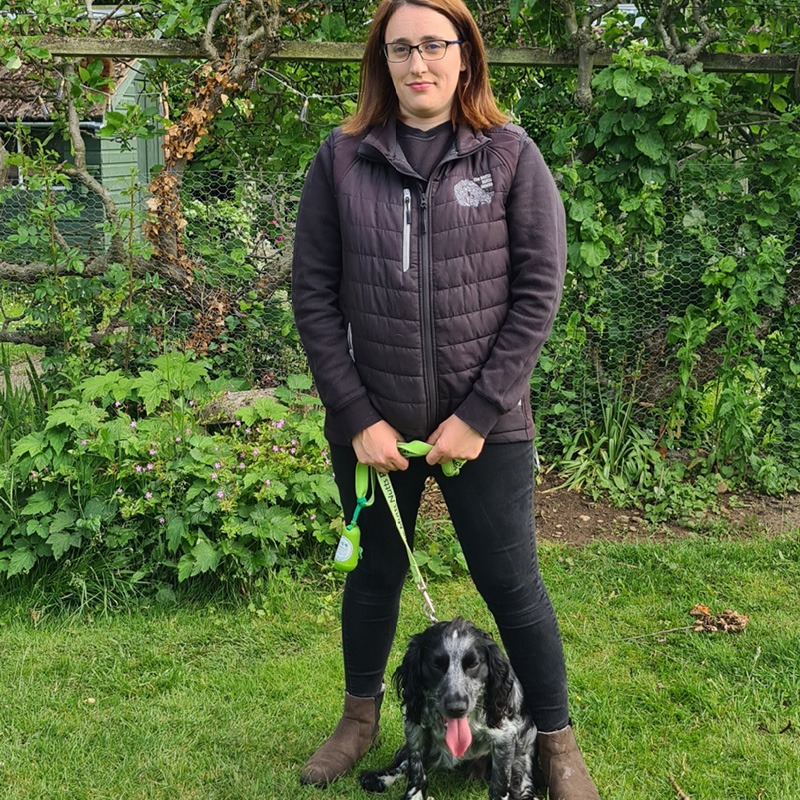 Sarah Kinkade
Assistant Operations Manager
I come from a very animal focused family. Growing up my parents owned a pet shop.
I spent most of my school holidays at the shop whilst my parents worked. I also had lots of pets growing up this had a big impact on my life.
Read More
After studying and earning my degree in Zoo Biology at Nottingham Trent University I found that one of my favourite subjects was animal behaviour – with a particular interest in Canine behaviour.
Once I finished university, I started working for the childrenswear and nursery department at John Lewis. But after 7 years there I was looking for a career change.
One evening I was browsing job websites and came across an advertisement for an Animal Management Trainee at a rescue close to where I live. The job seemed perfect for me and gave me the opportunity to put my degree to good use.
I applied and was overjoyed when I got the job. Due to my interest in canine behaviour and genuine love for animals working for The Mutts Nutts Rescue allows me to improve my knowledge, help animals and my local community at the same time, which is very fulfilling.
The Trustees:
the Barebones of the Charity
"all you need to be successful in rescue is a Backbone, a Funnybone and a Dogbone!"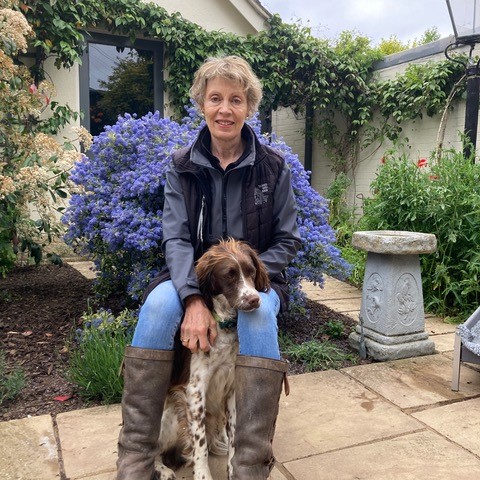 Jane Freeman
Trustee and Chair
In January 2021 I was honoured to take over the role of Chair from my fellow co-founder of the charity, Terry, who had worked tirelessly in this role for over 10 years guiding and developing the charity into what it is today.
Read More
I was very fortunate to be able to retire early from a career in the National Health Service where I mainly worked as a dentist running my own small NHS practice. Before finally hanging up my drill I worked for a few years at a Dental Access Centre and was on a professional board of a local Primary Care Trust. My previous career required an attention to detail, and in life I am by nature a "completer-finisher" so within the Trustee team I am known as "Backbone"
Like our entire team, I have been an animal lover all my life, with cats being my passion, until seven years ago a pair of elderly terriers came into our charity's care looking for a new home having tragically lost their elderly owner in a house fire. We had just had to have our beloved old cat put to sleep so "The Boys" came home and with them brought a whole new dimension of joy and companionship into our lives. We have sadly had to say goodbye to both Jack and Ted but the adage, "you are never alone with a dog" is so very true and having been fortunate enough to be able to welcome an adorable young Springer, Ben, into our home reinforces to me every day just how important a four – legged friend can be.
Being part of the Mutts Nutts Rescue team is an absorbing and very rewarding one, I cannot think of a better way to be spending my "retirement" than working with a wonderful team of like-minded individuals and volunteers who are passionate about helping pets, and hence their owners and families, in times of need.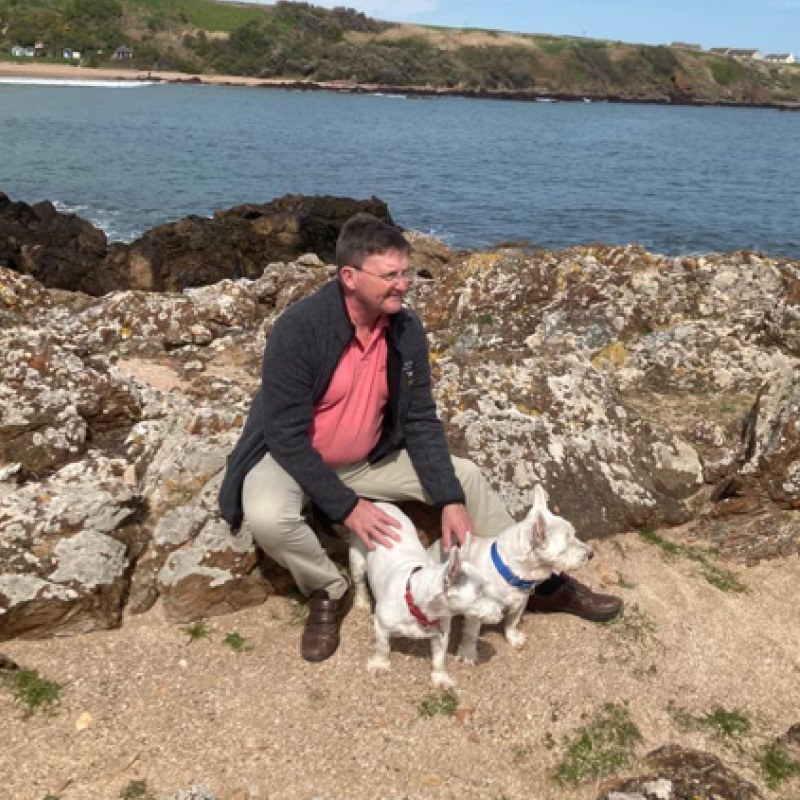 As all in the Mutts Nutts Rescue team who over the years have assisted, laboured and interfered with building projects I have supervised for the charity, (The Mutt Hutt, May Contain Mutts, Ground Nutt and Nutt Nook) will confirm, I am known for my charming charismatic personality.
Read More
This is most marked when at the beginning, middle and sometimes even end of a long day creating a new facility for rescue dogs and cats I am fed sausage sandwiches and cake, washed down with copious quantities of builders' tea. I have worked in the building trade all my life, I am a carpenter by trade, but like all true tradesman I can fortunately turn my hand to anything to do with buildings that I might be asked to do.
These Mutts Nutts projects have, seriously though, been enormously rewarding. They are all still standing and providing wonderful facilities for the pets housed in them. We have had fun building them, I am not commonly known as "Funny-bone" for nothing, and it has not been too much hardship to devote weekends and spare days in a busy builder's life in creating a home for pets in need.
I am a lifelong lover of dogs and we have always had rescue dogs living in our home.
Our current adorable pair of rescued Westies, Bracken and Benji often accompany me on jobs in my van. They might look as though butter wouldn't melt, but they can be feisty little critters, I wouldn't have it any other way!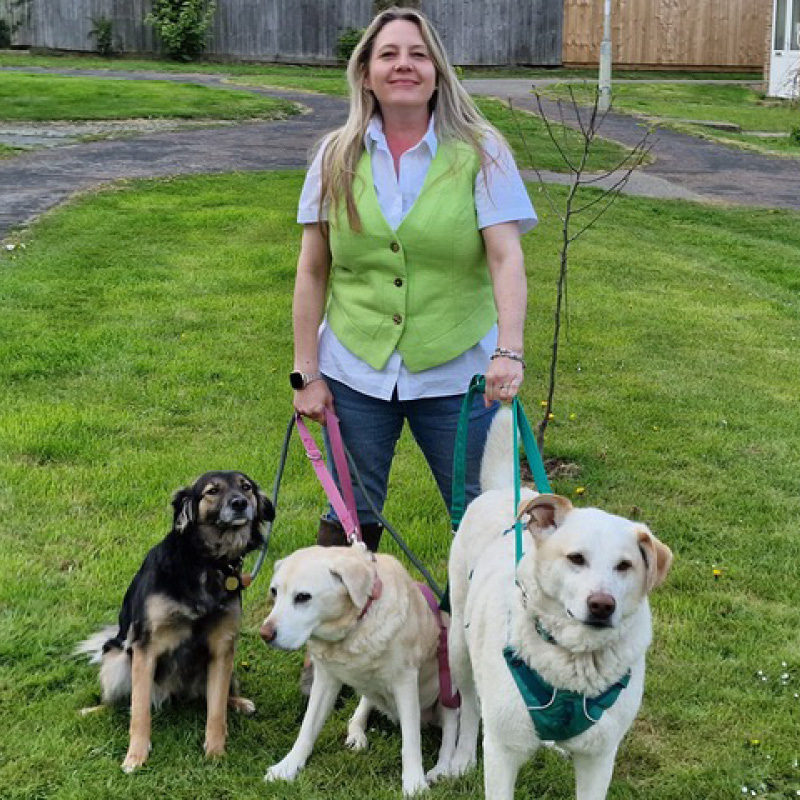 I started volunteering with the Mutts Nutts in September 2015 and used to refer to my days as "Sunday Fun-days," it was truly the highlight of my week! My personal contribution to the charity has evolved over the years and includes attending many fundraising events, spreading the word and now I have become a Trustee. In this new role I hope to add even more value to the team.
Read More
In my working life I am a technical professional who trains corporate customers in specialist software and supports them with any technical problems. As a 'techy' trustee, I am now helping the team with the intricacies of the digital world. My earlier career consisted of a considerable amount of travel so when that eased, I convinced my Husband that we 'needed' a dog. Getting Phil, the Labrador, changed my world! He was a rescue and had issues with other dogs, this led me to investigate dog behaviour, which started a passion that I still have today, attending regular webinars, conferences and reading a lot! I have since rescued Deano a Romanian street dog who had a bite history, Mols my perfect Labrador and my current dogs, Xena a Belarusian street dog who is terrified of most things and Bjorn who came from Romania but has been in rescue in the UK for over 4 years, he is a giant love bug but likes barking at people on walks.
We can't change the world, but I have always found that rescuing dogs does change the world of both rescue and rescuer and for me that's a fantastic thing to be a part of.
The Mascots:
Mutty and Nutty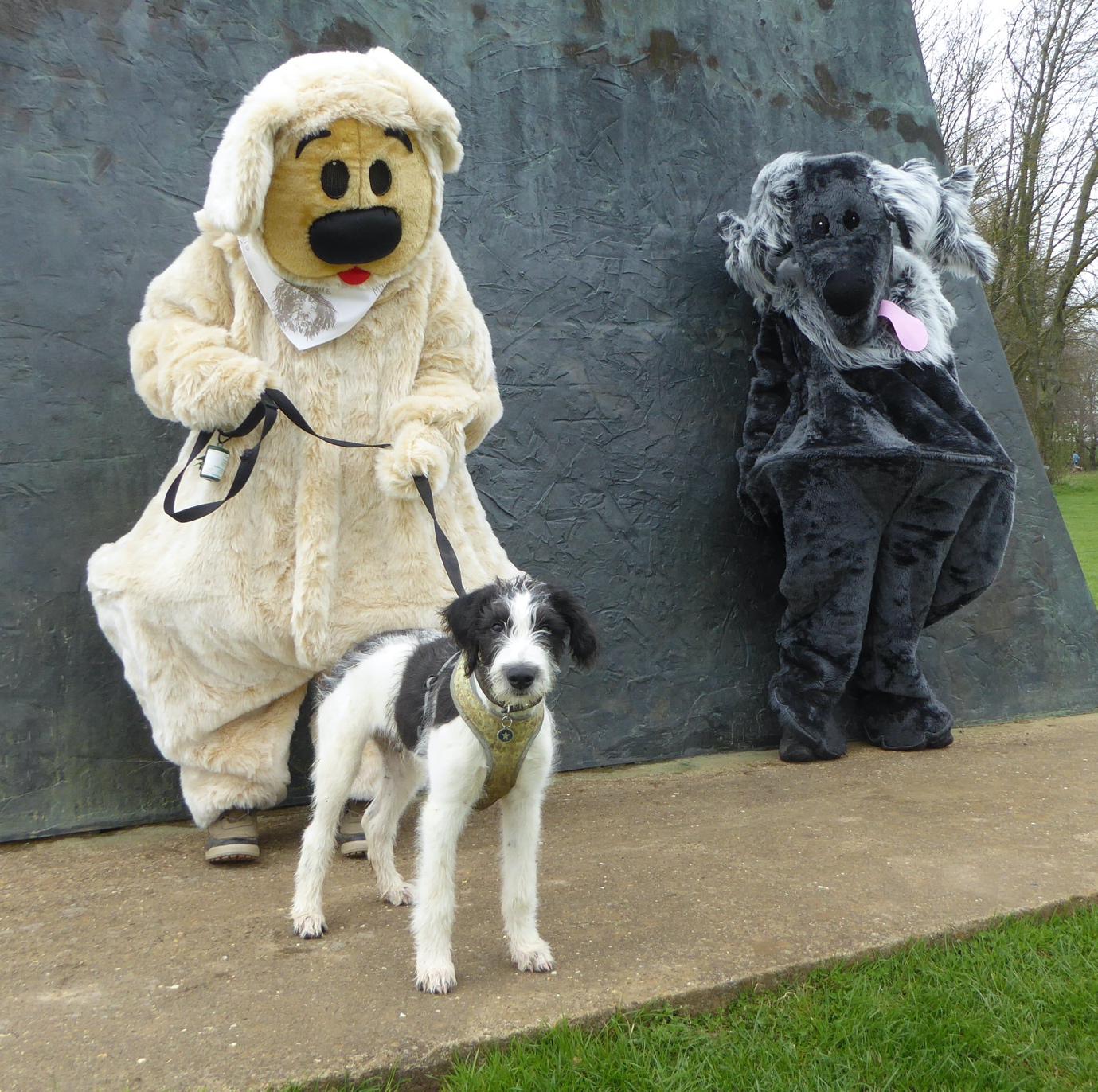 Mutty and Nutty were born on the same day, made from the same cloth, but different
in every
other
way!
Two dogs, two sides of the same collar. We decided to keep these two as Rescue Mascots to remind us of what it means to be canine – hearts as big as their furry bodies; often unaware of what is good for them, or more accurately, what might be bad for them!; prone to mad moments followed by bouts of sofa sleeping; messy, slobbery bundles of good intentions – who can light up our hearts at the flick of a tongue and the twist of a tail.
Here they tell their own stories…
Read More
"My name is Mutty, proud to be chief mascot for the Rescue. I was born to love, anyone, everyone, but most of all those who need me, and there is one dog who needs all the help I can give him – his name is Nutty, my soul mate, the bonkers one! He will give you the impression he is all fur and teeth, a daredevil amongst dogs. He is wild, impetuous and positively dangerous – but deep down he is the most loveable rogue I know. In spite of all his antics he would give you his last dog treat, lick you better and always fight your corner."
"My name is Nutty, the awesome one! I am faster than a speeding postman, I can leap tall people, and ford big muddy puddles. I live life large because I know that you have to grab it whilst it's there (and to impress my bestie, Mutty, who is something of a goody two-shoes!) Mutty takes care of the elderly and the poorly – whilst I distract them. Mutty doesn't believe in bad behaviour only bad training so life with Mutty is one long lesson! I'm not sure if I want to be THAT good – being naughty is a lot of fun, but I guess you have to have a bit of both to help make the world go round!"
The Mutts Nutts
Our Charity Objectives
The Mutts Nutts Rescue is a Charitable Incorporated Organisation registered with the Charity Commission. Its official objectives are:
For the benefit of the public to relieve the suffering of domestic companion animals in need of care and attention in particular but not exclusively by:
(a)   Providing or maintaining or assisting in the provision and maintenance or support of kennels, rescue homes or other facilities for the reception and care of such animals;
(b)   Providing treatment for such animals which are sick, injured, neglected or ill-treated;
(c)    Finding alternative caring homes for such animals.
To relieve and assist elderly persons and anyone suffering from a serious or terminal illness by providing or assisting in the provision of care for their pets and to find caring homes for such pets.